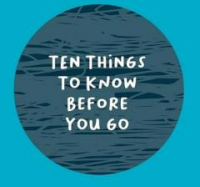 A comprehensive 2-hour online workshop that empowers you with the knowledge and resources you need to plan well for you or your family member at any life stage.
There's a lot of information out there about planning well and getting our affairs in order, but it can be hard to know where to begin! This workshop helps pull it all together and explores end-of-life planning in an engaging, accessible way leaving you feeling confident to know what options are right for you and your family whilst recognising the strength of your existing skills and experience.
The Ten Things to Know Before You Go workshop gives you the tools for these essential planning conversations to flow easily and productively. From accessing the legal documents to planning a funeral and understanding palliative care, this workshop covers all the essentials and helps you navigate 'what's next', in a relaxed, supportive learning environment with other people who are looking to plan well.
This workshop is offered online in a small group setting with facilitation and interaction enabling sharing and learning from each other's experiences. A face-to-face version of the workshop is available in some settings where current restrictions allow, see below for more information.
What does the workshop cover?
The workshop covers practical aspects such as;
Writing a Will
Appointing an Enduring Power of Attorney
Enduring Guardian
your digital assets
Planning your funeral
It also covers broader, social elements that can impact our end of life in a positive way such as; strengthening social networks and communicating our wishes.
Participants have left feeling more empowered with knowledge about navigating different aspects of the end-of-life system, 80% of participants have reported that they took direct action in end-of-life planning as a result of the workshop.
Find out more and register: Ten Things To Know Before You Go Workshop